A week of retreat, renewal, and relaxation with outdoor ministry colleagues
Join camp and conference professionals from all over the US and Canada in the beautiful Texas Hill Country for meaningful fellowship and learning! Presbyterian Mo-Ranch Assembly in Hunt, Texas is hosting this year's PCCCA Annual Conference. We encourage you to bring members from all areas of your outdoor ministry for professional growth and collaborative learning. Whether you're a first-timer or a seasoned veteran of outdoor ministry, there will be something for you at Annual Conference!
Water in the Wilderness
…for I give water in the wilderness, rivers in the desert, to give drink to my chosen people…
Isaiah 43:20
Water is a source of life, both physical and spiritual. It sustains us and renews us when we are tired. It refreshes us when we are thirsty. It was the waters of our baptism that welcomed us into the community of faith. Water also provides a place to gather together and offers a source of fun and recreation.
God provides the water to revive us in the often stressful and challenging field of outdoor ministry, which enables us to more faithfully serve our campers and guests in a manner that reflects Christ's love.
This conference is designed for camp and conference professionals to develop their skills and knowledge bases and network with others in outdoor ministry. We will have intentional time to refresh, recharge, and reconnect with your PCCCA family. In addition to the workshops focused on camp and conference management and programming, there will be workshops dedicated specifically to personal well being and recreation.
We hope you will take advantage of the opportunities to find the living water God provides in the wilderness so you can return to your site renewed for your ministry.
Presbyterian Mo-Ranch Assembly sits on 500 acres along the spring-fed Guadalupe River in the heart of the Texas Hill Country. Mo-Ranch is a summer camp, year-round conference center, and a host to a variety of retreats and events. It is a center for an Environmental Leadership Program, creative arts ministries, and an abundance of recreational opportunities.
Tom Rosenberg – Keynoter
Tom Rosenberg is the President/Chief Executive Officer of the American Camp Association. He most recently served as the executive director of Camp Judaea in Hendersonville, North Carolina. Prior to Camp Judaea, Tom spent more than two decades with Blue Star Camps in North Carolina, most of those years as a director. Tom is a past national treasurer and board member of the ACA as well as a past board president and treasurer of ACA Southeastern. A founding board member of the North Carolina Youth Camp Association, Tom was awarded the Henderson County Chamber of Commerce's inaugural Camp Industry Leadership Award as well as the American Camp Association's National Honor Award and ACA Southeastern's Distinguished Service Award.
Jill Duffield – Worship Leader/Keynote Speaker
Jill Duffield currently serves as the editor and publisher of The Presbyterian Outlook, an independent publication on the Presbyterian Church (USA). She graduated with her Master of Divinity from Union Presbyterian Seminary and was ordained as a teaching elder in 1998. In May, 2013 Jill earned her Doctor of Ministry from Austin Presbyterian Theological Seminary. She has served large and small congregations, led numerous retreats, and has had articles, sermons and curricula published. She was the 2015 recipient of the Associated Church Press James Solheim Award for Editorial Courage. In addition, Jill is frequently asked to preach and has had the privilege of preaching at the Massanetta Springs Bible Conference and the Montreat Conference Center. Jill is married to Grant and they have three children, Joseph, Jessie and Marissa.
Clay Brantley – Worship Leader/Keynote Speaker

Clay Brantley was born and raised in Louisiana and attended Camp Lacombe (South Louisiana Presbytery) as a youth and worked at Camp Feliciana (South Louisiana Presbytery) two summers with Robert and Karen Allen as a college student. After attending Austin Seminary, Clay served churches in Malvern, Arkansas; Sherman, McKinney, Garland, Whitesboro and Denton, Texas. While on the Arkansas Presbytery Camping Committee, Clay attended the PCCCA Annual Conference in 1997, 1998, and 1999. He has participated and led numerous retreats, conferences, and work days at Gilmont and Mo-Ranch. In the summer of 2015, Clay heard a call to step outside of parish ministry into a deeper exploration of life with Jesus Christ. This has led him into many wonderful, mystical, and life-giving experiences.
Hugh Donnelly – Music Leader
Hugh Donnelly grew up in Prince Edward Island, on Canada's east coast. While enjoying some live music one night in an Irish pub during his university years, Hugh made the decision to teach himself how to play the guitar. He has a passion for congregational singing, and has been invited to lead music at a variety of conferences in Canada and the US, including APCE, Montreat Youth Conference, ARW, Peacemaking, Big Tent, and Canada Youth. Hugh serves as the minister at Guildwood Community Presbyterian Church in Toronto. Important activities in Hugh's life include long distance running, flying small airplanes and playing with his band, Lost Pilgrims.
Schedule
When
What
Where
1:00-6:00p
Registration
Check-In
Hospitality
Airport Shuttles Running
Registration
6:00-7:00p
Dinner
King Dinner Hall
7:00p
First Timers' Welcome and Orientation

Social Time
Dishman
8:15p
Gather, Welcome and Worship
Main Auditorium
9:00p
Hospitality & Snacks
Wagon Wheel
This day is sponsored by The Insurance Board
When
What
Where
7:15a
Morning Watch
TBD
7:30-8:30a
Breakfast
King Dining Hall
8:30a
Children's Program Begins
9:00a
Keynote
Main Auditorium
10:30a
Break
10:45a
Workshop Session #1
12:00p
Lunch

Children's Program Ends
Riverside
1:30p
H2MO
Riverside
3:15p
Workshop Session #2

Children's Program Begins
4:45p
Association Meeting #1
Main Auditorium
6:00p
Dinner

Children's Program Ends
King Dining Hall
7:15p
Prayer Stations
8:15p
Small Groups
9:00p
Hospitality & Snacks
This day is sponsored by Ultra Camp
This day is sponsored by UltraCamp
| When | What | Where |
| --- | --- | --- |
| 7:15a | Morning Watch | |
| 7:30-8:30a | Breakfast | King Dining Hall |
| 8:30a | Children's Program Begins | |
| 9:00a | Keynote | Main Auditorium |
| 10:45a | Workshop Session #4 | |
| 12:00p | Lunch | King Dining Hall |
| 12:30p | Children's Program Ends | |
| 1:00p | Free Afternoon | |
| 8:30p | Hospitality & Snacks | |
When
What
Where
7:15a
Morning Watch
7:30-8:30a
Breakfast & Announcements
King Dining Hall
8:30a
Children's Program Begins
9:00a
Keynote
Main Auditorium
10:30a
Break
10:45a
Workshop Session #5
12:00p
Lunch

Children's Program Ends
King Dining Hall
12:50p
Children's Program Begins
1:15p
Association Meeting #3
King Dining Hall
3:00p
Workshop Session #6
4:00p
Children's Program Ends
4:15p
Cracker Barrels
5:00p
Auction
Dinner served during Auction
Main Auditorium
8:00p
Worship & Closing
Main Auditorium
9:00p
Hospitality & Snacks
| When | What | Where |
| --- | --- | --- |
| 5:00a | Airport Shuttles (running until 3:00p) | |
Flying to Mo-Ranch
Mo-Ranch will be providing shuttle service to and from the San Antonio International Airport (SAT) on the first and last day of the conference. Cost for the shuttle service is $25 one-way ($50 round trip). On Sunday, November 5th, the first shuttle will pick up at SAT at 11:00 a.m. and the last shuttle will leave from SAT for Mo-Ranch at approximately 5:30 p.m.
On Friday, November 10th, the first shuttle will not leave Mo-Ranch before 5:00 a.m. Departing flights for those using the shuttle service should be scheduled no earlier than 8:00 a.m. First and last shuttle times are subject to change depending on the number of reservations for shuttle services. Those arriving/departing outside of these times will need to make other arrangements for travel.
All major rental car companies are available at SAT. You can arrange alternate transportation with Hill Country Limousine for an airport shuttle at any time.
Pheasant Run
(Single Occupancy)
Comfortable, private hotel-style accommodations, each room with two queen-size beds and a private bath.
Wynne Flato
(Double Occupancy)
Comfortable, private hotel style accommodations, each room with two queen-size beds and a private bath.
Manor House Lodge
(Multiple Occupancy)
The original ranch owner's home, styled after an early Spanish mansion, includes a large living room with fireplace. In this building, we are offering seven triple or quadruple occupancy rooms – each with a private bath.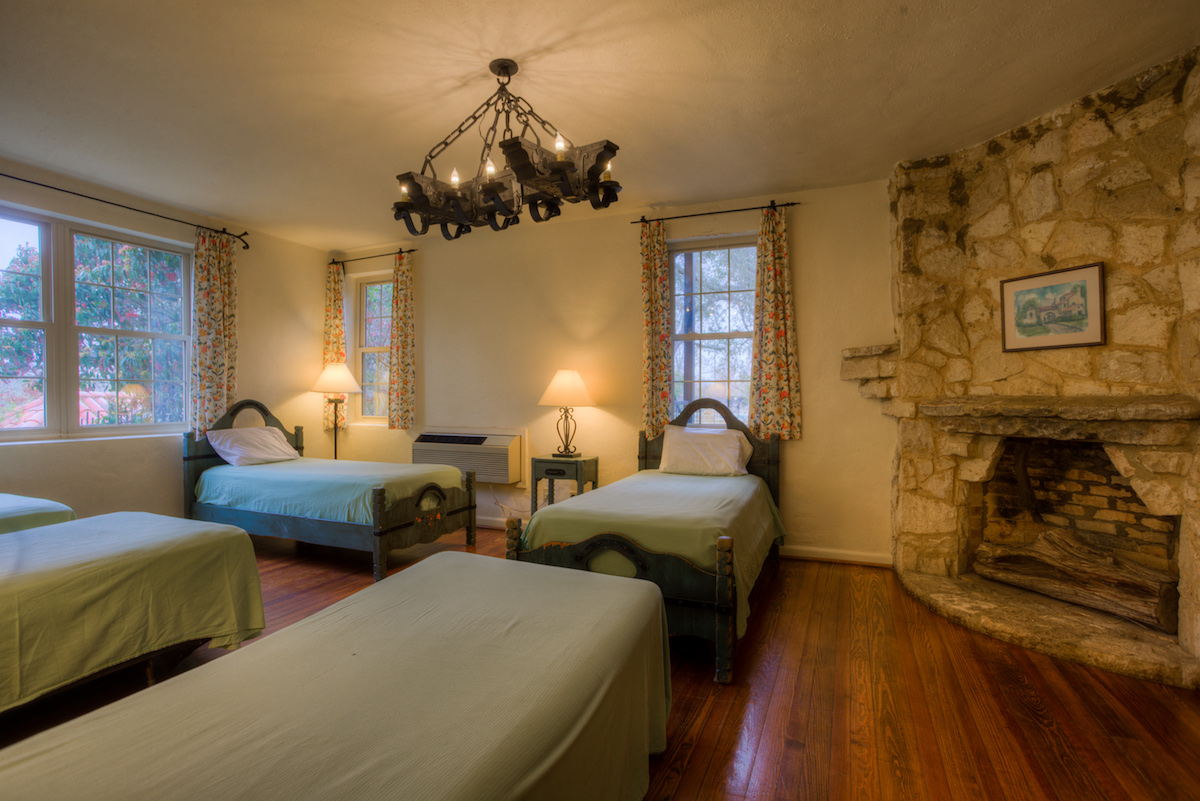 Guest Lodge
(Dorm Occupancy)
Unique two-story lodge overlooking the Guadalupe River. The 11 bedrooms have two bunkbeds (or three twin beds) with shared bathrooms.
Triplex Apartments – Family Lodging
Three separate apartments with kitchens, 1 bedroom in each unit, private baths and living area. Each unit sleeps 6 people with one queen and two sets of bunk beds.
Cancellation Policy
Prior to October 14th, all but $100.00 will be refunded to you. After this date, the entire fee is nonrefundable. If you need to cancel or change your registration, please contact the conference registrar, David Edscorn, at registrar@pccca.net.
Scholarships
Financial assistance is available for the conference. Please complete this request form and send it to PCCCA Executive Director, Joel Winchip at joel@pccca.net. PCCCA scholarships are normally limited to the registration fee for the event.
So how much does it cost to attend the conference?
Just add your registration fee, lodging fee, meals fee, and shuttle fee (optional) to get the total cost. Why all the math? We want you to be charged for exactly what you need and nothing more.
| Lodging Style | Description | Fee |
| --- | --- | --- |
| Guest Lodge | Dorm Occupancy, Shared Bath | $150 |
| Manor House Lodge | Multiple Occupancy, Shared Bath | $185 |
| Wynne and Flato | Double Occupancy, Private Bath | $275 |
| Pheasant Run | Single Occupancy, Private Bath | $425 |
| Family Lodging | Description | Fee |
| --- | --- | --- |
| Triplex Apartments | Includes kitchen and living area. | $700/family |
Meals
| Age | Fee |
| --- | --- |
| All Meals - Adult | $146 |
| All Meals - Children (4-11) | $102 |
| Children (3 and under) | Free |
Shuttles (optional)
| Shuttle | Fee |
| --- | --- |
| Airport Shuttle | $25 One-Way ($50 round trip) |